Current Fundraising Opportunities
AmazonSmile customers can support the Sandia Band Boosters in the Amazon shopping app on iOS and Android mobile phones! Simply follow these instructions to turn on AmazonSmile and start generating donations.
1. Open the Amazon Shopping app on your device
2. Go into the main menu of the Amazon Shopping app and tap 'Settings'
3. Tap 'AmazonSmile' and follow the on-screen instructions to complete the process
Smith's Inspiring Donations
Smiths Food and Drug donates .05% of every purchase you make to Sandia Band Boosters if you register with their Inspiring Donations program. They have changed their enrollment process and require re-enrollment annually. Check to make sure Sandia Band Boosters is your preferred non-profit! It only takes a few minutes to enroll and every donation makes a big difference to the band.
Upcoming Fundraising/Volunteer Opportunities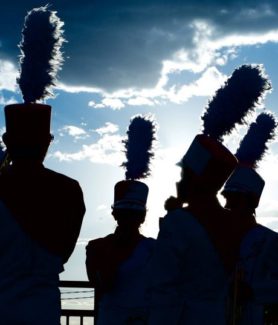 Pageant of Bands
The 42nd NM Pageant of Bands is almost here! Sandia is required to provide 16 volunteers this year for a 1:30-5pm shift. Volunteers will not miss the Matador Band performance. When we meet the volunteer requirement, the band can earn upwards of $1000! Click here to sign up and help make this year's POB a success!