Matador Bands
A Tradition of Excellence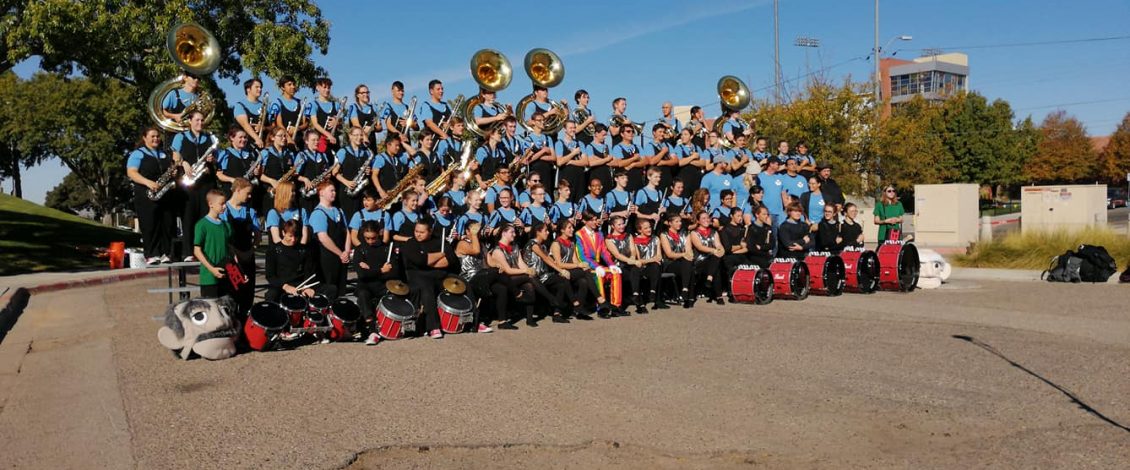 THANK YOU SPONSORS!!!
Please support the local businesses that support Matador Bands.
Sandia Band Boosters Newsletter–Special Edition
8th Grade Open House!!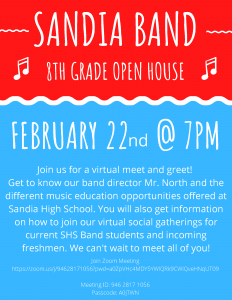 Mr. North is hosting an open house for incoming freshmen on 2/22/2021. Join us for a virtual meet and greet. Get to know our band director Mr. Notrh and the different music education opportunities offered at Sandia High School. We will also provide information for how to join our virtual social gatherings for current SHS Band students and incoming freshmen. We can't wait to meet you!!
Join Zoom Meeting
https://zoom.us/j/94628171056?pwd=a0ZpVHc4MDY5YWlQRk9CWlQveHNqUT09
Meeting ID: 946 2817 1056
Passcode: A0jTWN
Information in the SHS Band 8th Grade Open House Flyer
Incoming Freshmen families are encouraged to provide their contact information via SignUp Genius to stay in touch with the SHS band program. We use SignUp Genius to share activities and important updates throughout the year so don't miss this opportunity to stay informed!
Fundraising Opportunities
Smiths Inspiring Donations
Smiths Food and Drug donates .5% of every purchase you make to Sandia Band Boosters if you register with their Inspiring Donations program. They have changed their enrollment process and require re-enrollment annually. Check to make sure Sandia Band Boosters is your preferred non-profit! It only takes a few minutes to enroll and every donation makes a big difference to the band.
Amazon Smile
AmazonSmile customers can now support Sandia Band Booster in the Amazon shopping app on iOS and Android mobile phones! Simply follow these instructions to turn on AmazonSmile and start generating donations.
1. Open the Amazon Shopping app on your device
2. Go into the main menu of the Amazon Shopping app and tap 'Settings'
3. Tap 'AmazonSmile' and follow the on-screen instructions to complete the process
Tyler North – Director of Bands
New Mexico Music Educators Association 2021 Educator of the Year
Tyler North is currently the Director of Bands at Sandia High School where he has taught in various capacities for almost 20 years. Presently, Mr. North serves as director of 2 concert ensembles, 1 jazz ensemble and a steel ensemble as well as directing the Matador marching and athletic bands. During his tenure at Sandia High School, these ensembles have consistently garnered first-division ratings at festivals around the state and country. In addition, the Sandia Wind Ensemble was named the NMAA Centennial Band in May of 2012.
Before beginning his career at SHS, Mr. North received his undergraduate and graduate degrees at Fort Hays State University (Hays, KS) and the University of New Mexico (Albuquerque, NM) respectively. In pursuit of his post-secondary degrees, Mr. North has had the honor of working with many fine educators including Lyle Dilley, David Wilborn, Michael Robinson, Eric Rombach-Kendall and Bruce Dalby. Mr. North is also certified in both AP Music Theory and IB Music instruction.
Mr. North is an active member of the New Mexico Music Educators Association, serving as vice-president of bands for the Albuquerque district for 8 years and president for 5 years. Mr. North has also supported the future of music education by working with many student-directors over the years, many of whom have gone on to have wonderful careers of their own.
Mr. North currently resides in Albuquerque, New Mexico, with his wife, Jean (without whom, the last vestiges of his sanity would have slipped away years ago), his daughters Amara and Avalyn, and his yellow Labrador, Nana (without whom, his clothing would not have its customary coating of yellow dog hair).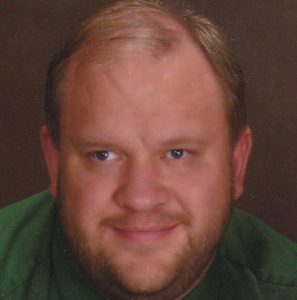 Location
Sandia High School Band Room
7801 Candelaria Rd NE

Albuquerque, NM 87110
Contact
Need additional assistance? Please contact us:
E-mail: admin@sandiabandboosters.org
Mailing Address
Sandia Band Boosters
PO Box 21627
Albuquerque, NM 87154